We are proud to present this innovation in the field of industrial brushes.
The floating rotating cylindrical brush that we have patented has exceptional efficiency standards:
the removal of dirt from surfaces takes place not only with the traditional rotary motion, but also with a lateral, tilting movement;
in addition to the cylindrical brush, we have also patented a system with modular sectors, born from the need to be able to perfectly clean a surface double that of the filaments, thus saving even 50% of plastic material;
thanks to the inclination of the tufts, the brush is able to reach every imperfection of the affected part, managing to soften even the unevenness;
always guarantees homogeneous cleaning of the surfaces involved even when the bristles are partially worn;
in addition to tufts with different inclinations from each other, we can punch them on the support even off-center thus opposing different brushing forces;
the support of the sector brush is also innovative in its shape, as the bases are cut at an angle to the orthogonal planes.
This product can be customized by our staff: both in the cylindrical support and in the sector, in the covering, in the arrangement of the tufts, in the applied materials.
The sectors of use of these patented cylindrical brushes are infinite, for example, in the ceramic sector it allows you to reuse old systems and better clean the molds of the presses, they are optimally used in cleaning conveyor belts and for the fruit and vegetable sector.
The advantages of this new system are:
remove dirt more easily
increase the life of the brush
leave no traces on the surface
clean all uneven surfaces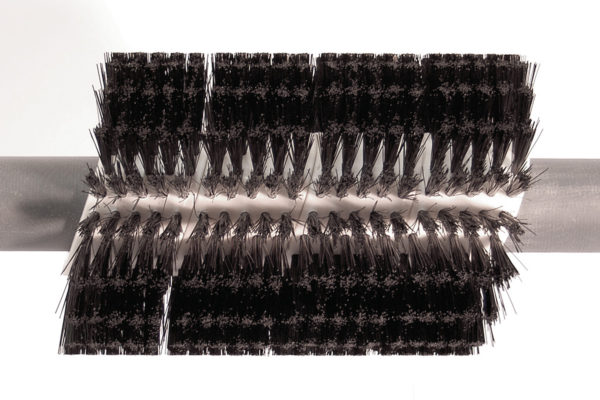 PATENTED MODELS, PAY ATTENTION!
Producing and purchasing counterfeit products protected by patents is an offense against intellectual property that involves criminal and administrative sanctions.